Making the ball work for you
When you're standing in the pro shop after some new balls, it can feel a bit overwhelming looking at the sheer number of options. How do you know which to choose? Each one has something to say for itself and we're giving them a voice, so if you're listening then you might just find yourself a golf ball that helps boost a part of your game that could use a leg-up. Let's dive in, shall we?
Distance
The soft REACT core of TaylorMade's Distance+ golf ball compresses to create speed at impact, with the clever aerodynamic design keeping the ball in the air for longer. This is all pointing towards optimal distance.
Greenside spin
When it comes to short-game, TaylorMade designed its TP5 & TP5x balls for high spin and soft feel around the greens. The greenside control & precision allowed by a cast urethane cover lets you go close with your wedges.
Putting
Now, here's where a clever bit of engineering can really help you. TaylorMade's Tour-proven Pix alignment makes it easier than ever to find the right line & path with your putter through visual aids on the ball.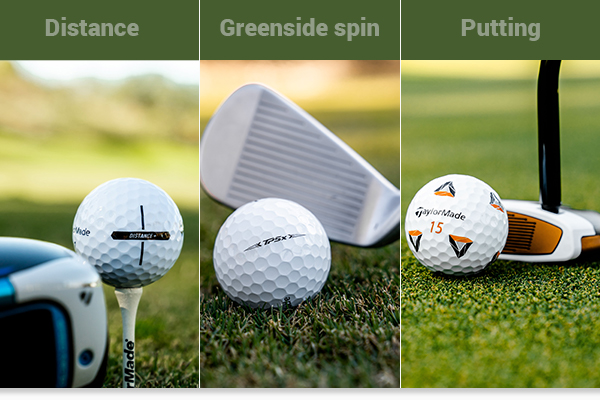 Back to Articles